TAKE OUR NEWEST QUIZ TO DISCOVER YOUR PERFECT FALL FLAVOR!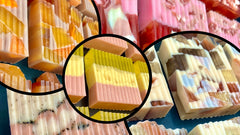 Sweets for the Sweet
The CAKERY collection is here! These new scents are all about decadent dessert flavors like ALMOND BISCOTTI, PEACH COBBLER, and yummy LEMON COOKIES. If dessert drinks are more your thing, try tangy-sweet CRANBERRY COCKTAIL or delicious chocolate MOCHA.

Of course, you can't really eat the soap. Think of it as a calorie-free way to enjoy these classic dessert favorites. Don't forget the Body Glow!
EXPLORE NOW
WHAT'S YOUR FLAVOR?
Choose from 6 scent profiles to suit every mood. Each kit contains 5 bars.
- ELEMENTAL
- FRESH
- JUICY
- SPICY
- SWEET
$ 35
SHOP NOW