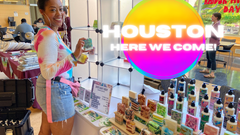 Hey there friends!
I have some exciting news to share with all of you! As the founder and creator of Spotlight Body, I am thrilled to announce that we are embarking on a new adventure and relocating the biz to Houston, TX!
To our incredible customers who have supported us from Tacoma, WA, we want to express our heartfelt gratitude. Your love for our handmade soaps and lotions, with captivating scents in luxurious and natural formulas, has been the driving force behind our success.
As we make this transition to Houston, our online store is currently sold out. We apologize for any inconvenience this may cause, but rest assured, we are diligently working to restock and will be ready to serve you again by September 1st.
To celebrate our grand reopening, we have something special in store for you – a live reopening event on our website! If you were able to catch our last live, you know it was a whole mood! We are taking the vibes up a notch this time. This event will be a moment of connection and celebration as we introduce new scents and a range of all-new products that cater to your need for beautiful, glowing, healthy skin.
Spotlight Body has always been about embracing individuality, and our motto "Your mood, your flavor" reflects that spirit. Our commitment to providing you with the best in bodycare remains unwavering, and we can't wait to share this new chapter with all of you.
While we may be physically moving, our online presence will keep us connected like never before.
So, stay tuned and keep an eye on www.spotlightbodycare.com for updates, exclusive offers, and exciting announcements. We'll have some new quizzes on the site to keep you engaged and ready for your next flavor. We are beyond grateful for your continued support and can't wait to celebrate our journey in Houston with each and every one of you.
Thank you for being a part of the Spotlight Body family!
With love and anticipation,
Monique